Cann't you find any good quality servo motors fit your requirement in the market??

Many Servo has these problems: big backlash, not accuracy, error decoding, small torque, gear break, IC crash

BeRobot servo motor is specially made in Taiwan and featured with stonger stall torque loading ability and high speed,

can be used for robot, helicopter, airplane, car, industrial service....
BeRobot Servo Motor features:
1. Special designed high precision robotic technology embeded with accuracy firmware SOC.
2. Overcurrent and low voltage protection circuit design will prevent SOC crash or even burn down.
3. High precision mechanism design and tooling technology produce almost zero backlash gear sets.
4. Special precision mterial made in Japan can support 500,000 rotational life cycles with lower than 5% tolerance.
5. Performance with high precision, high torque, high speed, high reliability, longer working time.
6. With coreless motor can reduce size, weight, noise and produce higher speed, higher life cycles.
7. Special bearing structure designed for robotic body skeleton.
8. Size: 23x11.5x21 mm, Weight: 9g, Torque: 1.8Kg-cm

We also provide ODM service.

Quotation/Order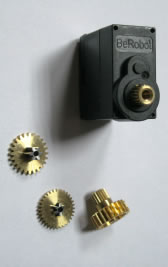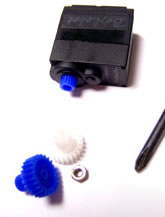 Notes: 
Some robots in the market use very cheap traditional helicopter servos will cause lots of problems, such as impossible to do precission position control, smaller torque, easy crack gear sets, short life cycles, IC crash and burn down... therefore,
GeStream deside to undertake the impossible mission to design and manufacture BeRobot Servo Motor for humanoid robot.


Company  Product   Education  Contest   Transformer  Awards   Resource  News   GeStream
BeRobot is World's smallest humanoid robot. Robot Platform/Education/Servo Motor/Controller/Sensor/Module/Program/DIY/Toy
All Rights Reserved by GeStream. Website designed by GeStream. Use of this site indicates acceptance of our Privacy Statement.
Copyright©GeStream Technology Inc.  Tel:+886-3-3568995 Fax:+886-3-3258685 Sales@beRobot.com