Taipei, Taiwan (Wednesday, January 15, 2008)

GeStream's BeRobot sets Guiness World Record with World's Smallest Humanoid Robot
Taiwanese robotics designer GeStream Technologies has received Guiness World Record recognition for producing the world's smallest humanoid robot. At 15cm, the BeRobot offers a wide range of functionality, controllability, customization and programmability.
The BeRobot is not just the smallest, but the lightest biped robot and is priced below the competition. BeRobot is known for its agility to walk, dance, do push-ups, stand up, etc.
The BeRobot features infrared remote control, two-hour battery operation, built-in speaker, and robust, updateable software. BeRobot is easily reconfigured into various animal forms such as dog, snake, etc.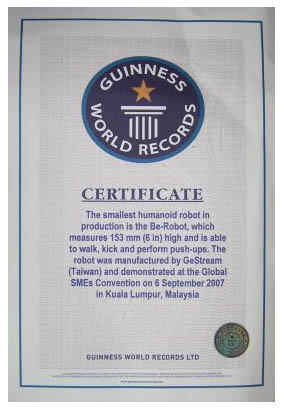 Plug-in interoperability includes:
• gyro
• voice control
• image sensor
• ultrasonic sensor
• Bluetooth control
• Zigbee control
• 2G/3G mobile phone control
Contact information:
Business Development sales@beRobot.com
Marketing & Press marketing@beRobot.com
Taiwan R&D Offices:
16F - 1 No.1249, Zhong Zheng Rd., Taoyuan City 330, Taiwan
Tel: +886.3.3258685